You have been approved for a puppies? Congratulations!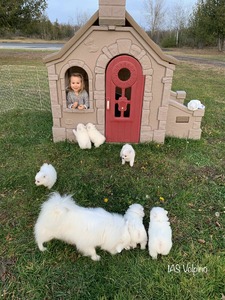 Here are the next steps:
Contract & deposit: Your application got approved so you will shortly receive a contract (guarantees) by email. Please read it carefully and do not hesitate if you have any questions or need clarifications.
You will then have to send it back signed together with your 500$CAD deposit by interac or paypal to be able to secure your puppy.
This amount will be deducted from the total purchasing amount of 2,000$CAD.
Choosing your puppy: once contract is dually signed and deposit is received, your puppy will be reserved.
Depending on if you want a male or a female, you will be ranked as a "first come first serve" basis. When your turn comes to choose your puppy you will have the option visit in person or remotely as I will be sending pictures and videos on a weekly basis. Please note that puppies won't be able to go to their forever homes before they are 8 weeks old.
On the puppy departure date: You will have to come in person to pick your puppy up.
Please allow about an hour on site to bond with the puppy and get the necessary briefing from the breeder.

Here is the package you will receive:
1- Puppy's UKC (United Kennel Club) temporary registration ( Owner will have to register permanently puppy with UKC)
2- Health booklet showing basic vaccines and deworming received ( shots at around 7 weeks).
3- Microchip number and documents.
4- North American Volpino Club : First year membership paid by the breeder. Documentation to be completed to be completed and sent to NAVC by Owner.
4- A departure bag including: a bag of food, a 5$ discount voucher on food (sponsored by FROMM), a collar, a toy and a small blanket