Thank you for your interest in owning a Volpino Italiano puppy!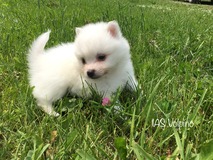 If you would like to own one of our puppies, please begin the process by filling out the questionnaire below.
The information you provide will allow us to get to know you better.
We always try to find the best possible home and environment for our pups. Due to various reasons, not all applicants are a good fit and some are not selected.
Please read our purchase policies and make sure you are willing to abide by the terms before filling out the application below.
Intentionnally providing false information on this application will result in denial and loss of your deposit. We do reserve the right to verify all information provided.