North Americano Volpino Club (NAVC)

NAVC started in America with Volpino owners born in America, Italy, and Canada. Founder, Terralea Collins was elected President in 2009. NAVC had their first meeting Sept 2 – 4th 2010.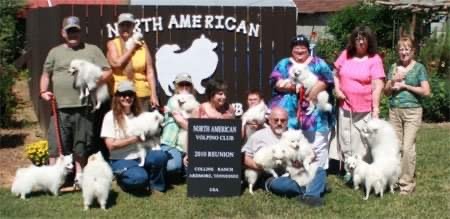 First NAVC meeting, Sept 2010

As the club grew and reunions were held each year same time same place, first Saturday of September, it's a 4-day holiday for both Canada and America, we started the VICA, "Volpino Italiano Club of America" 2014.
The VICA, was formed in 2014 by the same group as, NAVC.
VICA, was formed to one day be accepted by AKC, AKC FSS. FSS means Founding Stock Service, a division of new breeds and not yet a full AKC registration. In order to be approved by AKC FSS we needed, 100 Volpino's to register and 150 people, we met the goal February 2021. But we must keep it up each year as a list of paid members has to be reported to AKC FSS.
AKC and UKC are a one-time registration. NAVC and VICA is a yearly registration. This keeps the websites paid for, Bank and PayPal fees paid for, no officer or board members get paid , we are all volunteers, it also pays for reunions expenses (food etc.). If someone is out of work, in hardship members donate to help with proven vet bill and proven out of wok status. We have also rescued Volpinos from going to or in shelters. Or when someone dies, or moves and cannot keep it, we find a home for their Volpino/s.
We are continually active on Facebook groups and Instagram, public and private.

Applications (online) and guarantees (contracts) are especially important to have potential owner fill out and sign. Any breeder will take back a Volpino for any reason if someone can no longer have it, that breeder will either keep it or find a new home for it, breeders or person who rescued the Volpino might charge for Vet bill, Shelter charge, shipping, or delivery only. This is where our club members come in many times to help those in need. If you are not a member you do not have any of these advantages.
To get full AKC, there must be at least 1,000 Volpino's registered, many showing, and holding matches of our own, not just going to others. We are to hold 2 meets per year, Judges don't have to be certified but be sure they are familiar with the standard structure of the Volpino, using measure size. It is extremely hard to reach that goal, so we need members that will not fix their Volpinos, that will show and breed, we need membership participation. Never sell to puppy mills. Having several to breed is OK in-home environment or nice clean kennels, not cages etc. We use several types of investigating for new owners.

NAVC and VICA "Volpino Italiano Club of America" are one in the same although NAVC focuses on both America and Canada for UKC, "United Kennel Club" whereas VICA focuses on America only for AKC FSS. If your Volpino is registered with UKC no matter what country, then you can register with AKC then you can show in AKC FSS programs in America. There are several in the border cities.

NAVC is focusing on building membership so one day Canadians will be recognized by CKC, Canadian Kennel Club. NAVC is instrumental in getting AKC FSS recognition for Volpinos, so we continue with this club as a 2 country Volpino club.

1. NACV & VICA ARE a yearly fee payable through PayPal to … info@volpinoclubofamerica .com
2. PayPal Canada $28.29
3. PayPal America $25.00
(First year membership is already paid by the breeder)

For question, please email info@volpinoclubofamerica. com





~Terralea Collins
VICA President
UMAVI Jr President Italy